Why is Miami Beach Elite Dialysis different from other dialysis facilities.
We are different from other dialysis facilities. This is why:
Individual rooms dramatically decreases the transmission of infections from one patient to another.
We have only 4 dialysis rooms which means you truly recieve individualized care!
Each patient is attended throughout the dialysis treatment by a single nursing staff, unlike other centers where one nurse cares for 12 patients and one technician for 4 patients.
We accommodate our patients whether they require 3, 4, 5 or 6 sessions per week with a usual duration from two to four hours per treatment.
We cater to the tourist and traveler with a busy schedule that requires dialysis.
We welcome all Nephrologists to follow their patients.
Each treatment room is sound-proof which allows for private conversations with your doctor, caregiver, family members or coworkers.
You can remain productive while working during your treatment in our facility because we provide free secure Wi-Fi internet access, ergonomic laptop tables, customized lighting in your own private room.
We entertain you with 'smart' televisions with access to Netflix, Pandora, YouTube and many other sites to allow you to catch up on your favorite shows.
We offer our patients 'Kangen Alkaline Miracle Water' which is a pure alkaline antioxidant drinking solution proven to be helpful in healing the human body.
All Nephrologists are welcome to follow their patients in-center or at home.
__________________________________________________________________________
Our care is provided using advanced equipment unparallel in its class:
We use BPA free dialyzers
We use state-of-the-art equipment such as a CRITLINE monitor during your treatment that allows us to enhance your dialysis experience, preventing nausea, lightheadness, dizziness, cramping, hypotension and fatigue, during your treatment, as well as, after your treatment.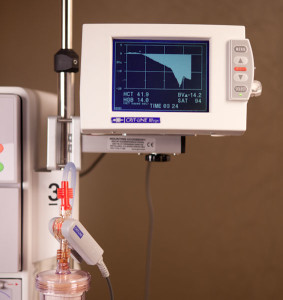 (a CRITLINE monitor in use)