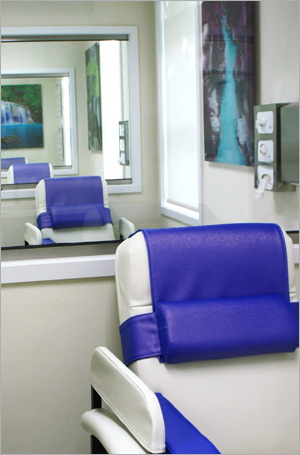 Exceptional Service and Comfort
Miami Beach Elite Dialysis is different from any other dialysis facility. We are not only committed to the finest quality patient care and treatment, but also offer a serene ambiance, sound proof private suites, and a skilled staff provides one-on-one care in patient supervision. In addition, we are able to accommodate our working patients' schedule according to their agenda.
Miami Beach Elite Dialysis will strive to improve the quality of your life. Our staff provides you with personal medical care in luxurious comfort while in a private treatment room. The Medical Director, Dr. Leticia Adan, a Nephrologist with over 35 years of experience has always believed that actually listening to the patient's in detail helps to improve the level of medical care, the patient's well-being and life expectancy.
SPECIAL SERVICES WE OFFER
We are open 7 days a week and can accommodate you at any time.
We ensure individual private treatment suites. Individualized treatment rooms/suites dramatically reduce transmission of infection between patients.
Each patient is attended throughout their dialysis treatment by a single nursing staff, meaning one-to-one care.
We offer Staff-Assisted Home Hemodialysis treatment performed by a certified nursing staff in the comfort and privacy of your home.
Staff-Assisted Hotel Hemodialysis treatment when you travel. Performed by a certified nursing staff in the comfort and privacy of your hotel room.
Out-Patient Standard Hemodialysis 3 times per week.
Slow Hemodialysis 4 to 6 times per week during the day or at night.
Peritoneal Dialysis.
We use BPA Free Dialyzers.
Each treatment room is soundproof which allows for private conversations with your doctor, caregiver, family members or coworkers.
Family members and visitors are allowed in your suite during treatment.
We cater to the tourist and traveler with their busy schedule that require dialysis.
We provide free secure Wi-Fi Internet access, ergonomic laptop tables, customized lighting in your own private room allowing you to continue working and being productive during your dialysis treatment in our facility.
Each room has 'smart' television with access to Netflix, Pandora, YouTube, and many other sites to allow you to catch up on your favorite shows.
Our dialysis chairs are luxurious and plush with Heat & Massage settings. Each chair can recline to a complete flat position, like a bed, for your sleep and comfort.
We use state-of-the-art equipment such as a CRITLINE monitor during your treatment which reduces the risk of dropping blood pressure during treatment.
We offer our patients 'Kangen Alkaline Miracle Water; which is a pure alkaline antioxidant drinking solution proven to be helpful in healing the human body.
Concierge services are available upon request.
Miami Beach Elite Dialysis is only four minutes away from the world-renowned Mount Sinai Hospital and fifteen minutes away from Jackson Memorial Hospital-University of Miami Kidney Transplant Center.